Good News Australia 1991 Issues
Sep 10, 2014 1942
1991 Issue No. 2
Whose side was God on anyway? by Rob Cooper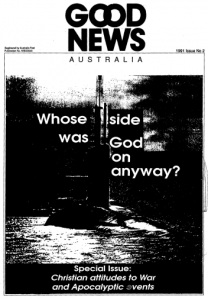 Excerpt:
Emotionally, Christians may find the Gulf War difficult. Some previous wars have been defined as being betweeen Christian forces and the infidels or at least between the "correct" form of Christianity and the "incurred" form of Christianity.
1991 Issue No. 3
The Christian Priest
by Ron Allen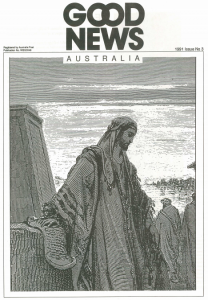 Excerpt:
This issue has two major themes. Firstly, Ron Allen and Rob Cooper explore various aspects of Christian's responsibilities to God.
1991 Issue No. 4
Christ's Recipe for Lasting Happiness by Desmond Ford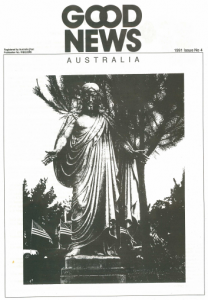 Excerpt:
Elsie felt excluded. She sat alone all day in her room. Elsie had lost her dentures.Elsie lives ina large rest home. (Forgive my archaism. A rest home is now a "senior-congregate-living community for the chronologically gifted".)